Since 1974, Colin MacDonald has hosted one of the U.K.'s quintessential folk music programs. Thank you Colin for keeping the spirit of folk music alive all these years. And thank you for your continuing support of my music.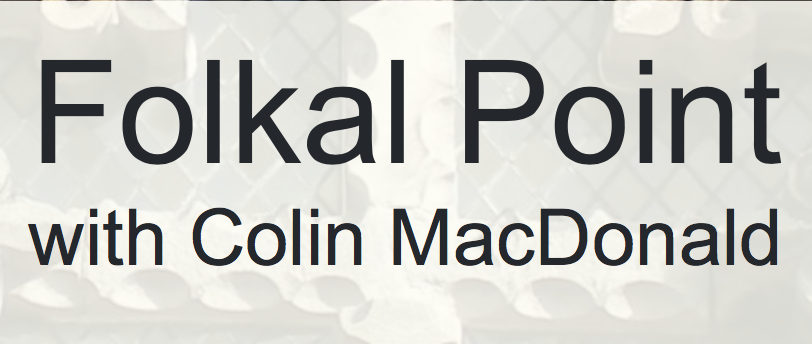 FOLKAL POINT – musical alternatives sans frontieres from folk to rock with myriad cute other stuff slipped in along the way – offers innovative artistry to discerning listeners around the world. This innovative radio programme's stripped-down format, quixotic, informed, an unbiased spotlight on originality and creativity, steadfastly spurns here-today-gone-tomorrow fads, and just as resolutely ignores trivia. More than four decades since first airing on nascent Radio Clyde, this well-regarded, now widely syndicated two-hour weekly programme is still curated and presented globally by its self-effacing Scottish creator *. Always thoughtful, often quirky, sometimes provocative, enigmatic even, yet always fiercely resistant to barriers and contrived labels, Folkal Point remains laid back, arguably a tad eccentric but above all still a joyously maverick celebration for all on this fragile blue planet who value the glorious confluence of meaningful words and music in their lives. 
* Colin MacDonald's media career, at home in Scotland, London and abroad (from both ends of the Mediterranean to the South Atlantic), has also embraced extensive journalism plus TV and film work – both on and off camera. Now, some seven decades along the road least travelled, he's "most at ease with a microphone and plenty of great music to share". 
Tried-and-tested since 1974, the Folkal Point format – still essentially folk to rock –  is quixotic, informed,  unbiased and treats music, musicians and listeners seriously.  Veteran Scots producer-presenter Colin MacDonald brings a lifetime's media experience at home and abroad to bear."It's not what I say but what I play that matters,  so you should really listen carefully to the words", he urges. 
FOLKAL POINT is broadcast simultaneously (Thursdays, 10.00pm – midnight) on 105.2 FM in the Uists and Benbecula via An Reidio, across the Cowal Peninsula via Dunoon Community Radio – 97.4 FM and online, and Two Lochs Radio (Wester Ross) on 106 FM, 106.6 FM and online. 
Folkal Point then timeshifts on Crystal FM 107.4 from Penicuik, serving south west Midlothian (Thursdays,11.00pm -1.00am) plus a 10.00am – midday Friday repeat, with a Friday midnight slot on DAB digital and online broadcaster Radio Telstar throughout Glasgow and surrounding areas, plus Saturdays (10.00pm-midnight) with HBS in Glasgow and Paisley. DCR offers a Sunday evening repeat from 8-10pm. The programme is also re-transmitted (globally!) online three times a week by Blues and Roots Radio from Canada. 
Folkal Point is curated by Colin MacDonald in Scotland and realised at the Glasgow studios of HBS. 
www.folkalpoint.scot  sponsored by folk singer 'Robin Campbell & folk' for playlists, questions, comments and 'likes'.