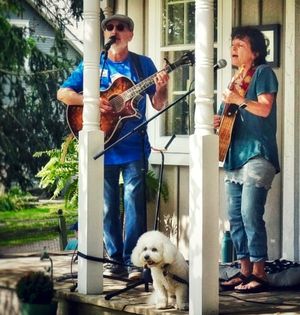 Happy New Year everyone! As we enter a new decade, push the proverbial reset button, and formulate our resolutions, I remain hopeful that a better world is unfolding! 
Undoubtedly, 2019 was a year filled with angst and crises too numerous to fully comprehend. And, despite our fervent desire for a quick fix, we know the clock striking twelve midnight is not going to make it all go away. 
Whatever Bogeyman haunts your particular version of reality, whether that be the climate crisis, the prospect of nuclear war, or your own personal struggles with mortality, let us all take comfort in the fact that we are stronger together as a community. Indeed, resolving our differences as a species, and learning to treat all life on this planet with respect is our only hope, if are to survive. 
Musically, it has been a wild roller coaster of a year with the release of my 8th album, "Live in L.A." and tours both far and wide. Taking a very personal, musical message of love, peace, social justice, and environmental responsibility across the continent can be a risky business on many fronts. Vulnerability and isolation alternate with exhilaration and the formation of powerful connections. Acceptance and rejection become yin and yang, a catalyst for letting go and cultivating gratitude. 
And so with a new year, and hopefully a new age dawning, this old folksinger will continue down the road, sometimes crawling, sometimes dancing, either solo or happily accompanied by my love and musical partner Anna, and our furry little friend, Louie. 
Thank you so much to everyone who has supported me on this quest, including family, friends, fans, DJ's, and venues. It really does take a village! Special thanks to 'my team' - Michelle Fortier, Larry Ahearn and Trespass Music. I look forward to our continuing journey together. Love, peace, and music always!