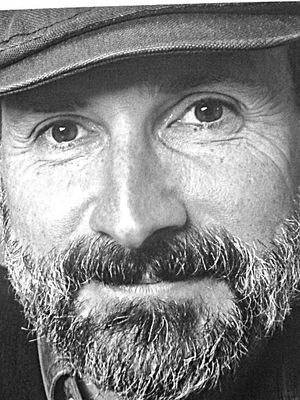 LONGER BIO (400 Words)
"Highly evocative and intriguing" (fRoots, UK), the music of Ken Dunn "sneaks into your feet, heart, and soul" (No Depression, USA), offering "refreshing insight into human complexities" (Festival of Friends, Hamilton) with a style characterized as "the folk tradition, with integrity and sincerity" (Chart, Toronto). Whether mining the depths of human emotion, or pleading the case for social and environmental justice, Ken's songs are "filled with the human spirit" (CFMU Radio, Hamilton).   
Combining an adept finger style acoustic guitar technique with "strong, distinctive vocals" (R2, Dublin), and "brilliant songwriting" (Hemifran, Sweden), Ken delivers his positive message directly to the soul of the listener with a style compared to that of Neil Young (Roots Time, Germany).  Known for his engaging stage presence, sense of humour, and delightful story telling, Ken performs either solo, or with partner Anna Green, whose vocal harmonies add an ethereal dimension to live performances.
A veteran Canadian folk singer-songwriter, Ken has performed at hundreds of venues over the past 30 years, across Canada, the U.S., and Central America from concert halls to festivals and cafes, sharing the bill with folk and roots icons as diverse as Jerry Jeff Walker, Willie P. Bennett, Valdy, Mike Beck, Roy Schneider, Pi Jacobs, and Garnet Rogers. 
Ken's passion for social and environmental justice is evident in the many benefit concerts he performs, supporting charities as diverse as the Harry Chapin Food Bank, Amnesty International, Playing For Change and LA Family Housing.
Ken has released 10 albums featuring some of Canada's finest studio musicians, including Dennis Pendrith (Tom Paxton), Dean Drouillard (Jill Barber), Mark Mariash (Buffy Sainte Marie), Ben Grossman (Loreena McKennitt), Randall Hill, and Roly Platt. Ken's recordings have received critical acclaim, extensive airplay, and placement in film scores. His most recent album, "Anthology Volume 2" was released to radio worldwide by Art Menius Music in April 2024. In support of the album, Ken is currently touring in Ontario, Canada.